Garry Lee Wright
   is a Chicago-based radio host and humouriste.
was a "sharp-witted account of his unique experiences and perspectives as a child, stand-up comic, media personality, and family man." Four stars on Amazon. The
audiobook

is coming soon.
As a radio host    Garry Lee has held forth on 11 stations, including WMCA, WOC, WXRT, and WGN.
His new home in PIRATE RADIO from Chicago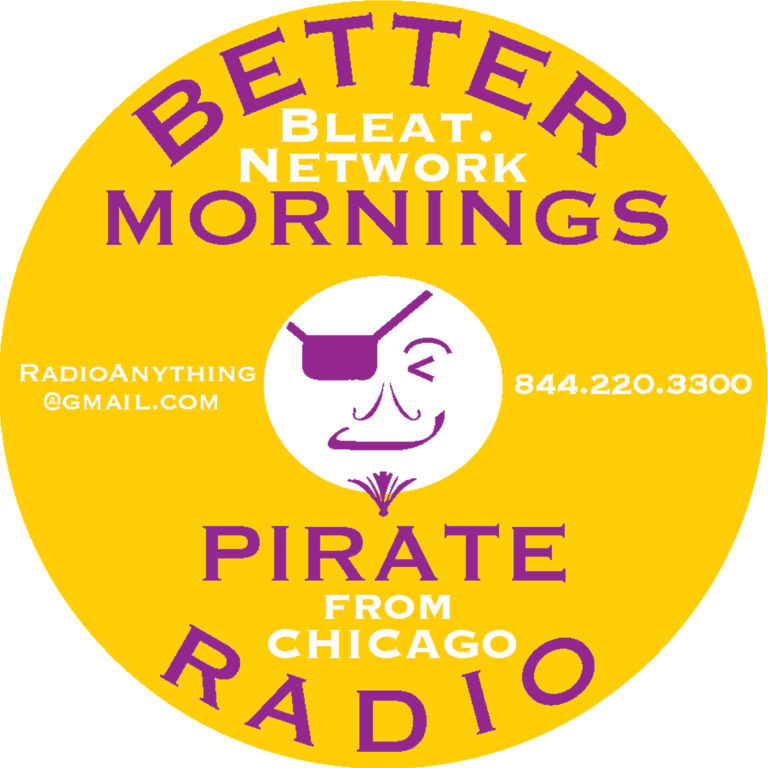 joins the Bleat Network®
in 2019. Please join in at bleat.network and help grow the best new social media platform since breaking news came from some guy on a horse.
Garry Lee Wright's live comedy   has graced the Village Gate in NYC, the Portage Theater in Chicago, and Senese's Winery in Oak Lawn. 
His show Garry Lee Wright was a Baby Boomer  toured the Midwest 2001-05. Time for a new one? On the way. In the meantime, here's a clip on YouTube


Please visit NEWRITE.NET and find out about making money with us.

 
 GARRY LEE WRIGHT was born September 27, 1951 in Wilmington, Delaware to Wilbur Gary Wright and Blanche Pauline Knapp.

The son of a contractor and a registered nurse, Garry lived in Tennessee, Alaska, Seattle, and Phoenix before settling in Chesterton, Indiana as a fourth-grader and graduating from Chesterton High School in 1969. He attended Wisconsin State University at Whitewater (now UW-Whitewater) in 1969-1970 before moving to California in the fall of 1970, where he pursued a brief tenure as a singer/songwriter.

After buying media at advertising agencies, Garry was hired by WXRT in Chicago in 1975 as a salesperson. After working as a personality for WFNC/WQSM in Fayetteville, North Carolina, and WMBR in Jacksonville, Florida, in the mid-1970s, he rejoined WXRT in 1978 as a weekend personality and hosted mornings.
Garry moved to New York City in 1981, working as a salesman, consultant, copywriter, and stand-up comic through the early 1990s. He performed at clubs including Catch a Rising Star, Stand-Up New York, Comic Strip, and the Village Gate.
After guest-hosting for radio pioneer Barry Gray at WMCA/New York City (1988) he moved to East Hampton, Long Island, in 1993 to debut "The Big Breakfast with Garry Lee Wright" on WEHM. [New York Times, by Diane Ketcham, 5/16/93].
As host on WOC  in the Quad Cities (IA-IL) 1995-97, his program was named "Best Morning Radio Show" by the River Cities' Reader.
Garry was on WGN Radio from 1997-2006.
Garry is an avid Chicago sports (meaning bipolar Cubs) fan. See you at Wrigley!
or just take a break
Thanks for checking in. Be well, and please keep in touch.
GARRY LEE WRIGHT is a Chicago-based radio host and humouriste. He's broadcast across the country and around the globe on WOC, WXRT, WGN, and now on Bleat Network®️ for Pirate Radio (formerly known as Pandemic Pirate Radio).
• Garry has appeared live from New York to California. The stage show "Garry Lee Wright was a Baby Boomer" toured the Midwest in the 2000s
• His weekly satire column NEWS JUNKIE ran in alternative papers across the country and won a SPJ award for humor.
HOLIDAYS AT THE DAILY PLANET
When even the news needs a break
"Excuse me, Mr. White?"
"Yes, Jimmy? What is it?"
"Something strange is going on. No one came to work at the paper today." "Everyone is off until January. I just came in to use the bathroom."
"I beg your pardon?"
"It's the holiday season. End of the year. We're on a news hiatus."
"A news hiatus? But what if something happens? Who'll report it?"
"It won't. Never does. See, everybody needs a break. All the big newsmakers take off
this time of year. Vacationing, partying, sobering up. No one's in any mood for a pushy interview. So they don't do anything, and we don't cover it."
"What about the volatile international situation?"
"Here's your headline: 'War going fine, say top officials.'"
"Run that tomorrow?"
"For the next six weeks."
"What do we put in the rest of the newspaper?"
"The usual holiday stories. We run the same ones every year."
"We do? I never noticed that."
"No one does. End-of-Year Amnesia Syndrome."
"What?"
"Exactly. Something happens to everyone's memory right after Thanksgiving. Maybe
it's the L-tryptophan in the turkey. But they never seem to notice when last year's articles pop up again."
"Wait a minute – like, every season we ask some guy at a Christmas tree lot how to keep them fresh, and he always says, 'Make a new cut and put it in water.'"
"Bingo. We've run that since World War II and people still hang it up on their refrigerator. Two years ago it won an honorable mention for investigative reporting."
"And no one ever catches on?"
"Never. Someone ran a picture of Santa wearing an 'I Like Ike' button once, but our readers are comatose through New Year's, so no one complained."
"And nothing new actually happens?"
"Nada. We run our annual story about dangerous toys, our annual story about not groping coworkers at company parties, and then our big annual story about holiday safety. 'Don't set fire to your house with frayed Christmas lights!'"
"Does that still happen?"
"Not since 1947."
"Shouldn't we update it?"
"Here's your lead. 'Organic eggnog and botulism are a recipe for holiday stress.'" "And that's really it for the whole season?"
"We look up when Hanukkah and Kwanzaa are, then it's bring on the BarcaLoungers."
"But what about those shopping surveys? How do we keep them current?"
"Make up the name of some mall. 'Valley River Orchard,' 'Canyon Creek Meadow.' It's always land formation, body of water, plants. Then quote somebody named Betty saying, 'I'm on a budget, but golly, it's Christmas!'"
"So there's really nothing that needs doing this time of year?" "You could write up some weather forecasts."
"Can do, chief! Any particular slant?"
"'Jack Frost will be nipping at our noses.'"
"Got it."
"Great. See you around Valentine's Day."
• Garry's "forensic memoir" HAPPINESS FOR BEGINNERS (4 stars on Amazon) is available in paperback, ebook, and soon as an audiobook. Free to our Chicago Radio Pirates listeners!
• His favorite jobs are father, amateur musician, and professional Cubs fan.